Celebrating my wife's birthday at a high end Asian restaurant in Tel Aviv last night, instigated this blog post. It seems that the markup on wine in Israeli restaurants is as steep as can be. Wines that we buy at the wineries for roughly 100 NIS a bottle, will often be priced at 260-280 nis at the restaurants. Although Tel Aviv aspires to be like Manhattan, we are not quite there yet, which brings us to the first and most important tip.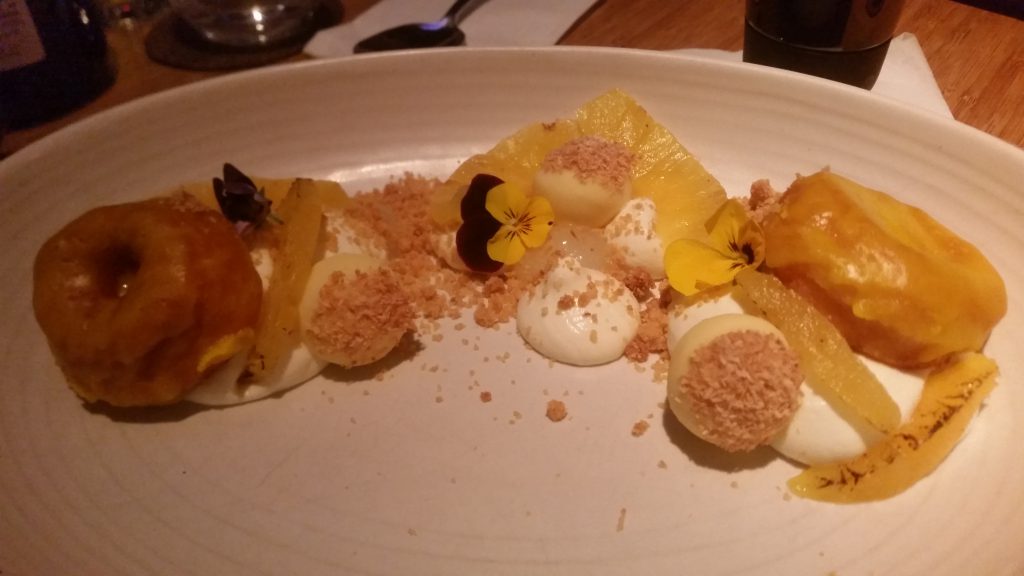 Roasted Pineapple @ Taizu TLV
Outside wine in Tel Aviv restaurants is permitted! As long as you bring a vintage and label which the restaurant does not offer, the wine can be opened and poured for a cork fee [roughly 40 -60 Nis] If you cannot find the wine list online, it is perfectly acceptable to call the restaurant and ask. For our celebration, we brought 2 bottles [2015 Pinot Grigio from Lueria Winery and a 2010 Layam by Agur Winery] we offered a taste of both to our waiter. In general, being nice about bringing outside wine to a restaurant always helps. In the past, pouring some of our wine to the staff of the restaurant to taste has gotten us extra appetizers and desserts that were on the house.
Jerusalem is not Tel Aviv. Wine is the only beverage in the Bible that has its own blessing. Wine was and is used as part of Pagan rituals. The outcome is that religious Jews require Kosher wine. If you are going to a Kosher restaurant in Jerusalem , you need to bring Kosher wine , touring the Judean Hills boutique wineries with us , is an easy way to get acquainted with superb Kosher wines.
Asking for a taste before ordering a glass is allowed If a restaurant is selling a wine by the glass, it is allowed and acceptable to ask for a taste. At the price the restaurant charges for the wine, they can afford to allow a client to preview the wine before ordering it.
Israel is hot, cool your wine! Room temperature is a term that refers to 13th century Europe. These days North America and North Tel Aviv are hot! Wine simply tastes better when it is cool. If you have ordered a wine which is warm, ask for an ice bucket. Yes, even if this is a red wine. You will thank us later!