It has been a while since we last updated the blog. In the past year, Alon has been leading winemaker only trips to multiple wine regions in Europe. His groups have been to the Rhone River [the Israeli flag flew over Chapoutier for the visit!] in June Alon and winemakers from the Judean Hills were in Priorat, Spain.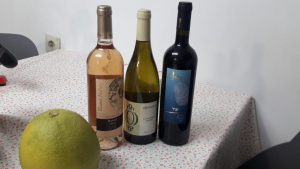 Ramot Naftaly Rose, 2018 Vortman Colombard and 2017 Oz from Seahorse
IWT continues to tour extensively through out Israel. A multi day tour recently brought us to Ramot Naftaly Winery in the Upper Galilee. In recent years Itzhak Cohen the owner and Vintner has been growing Nebbiolo. A limited series of 1500 bottles dry Rose 2018 made of Nebbiolo, Gewurztraminer was released in September, and we found it to be an incredible surprise. Itzhak was kind enough to allow us to try a red version of his Kedesh Valley grown Nebbiolo as well.
In the Carmel the Vortman Winery has changed things around and from the 2018 vintage only doing fermentations with the natural Yeast on the grape. Hai Vortman and his team are growing Organic vineyards in Shfea Valley and the winery has been putting an emphasis on Petite Verdot Malbec and Merlot in recent years. As for white wines, Hai has been releasing wines that are fruity, elegant and low in alcohol in any standard 10 – 11%. Another fantastic surprise