Our tours are custom tailored, You tell us what type of wine you enjoy back home, and we plan your itinerary accordingly. Please let us know if you are interested in a specific winery!
Judean hills Wine Tours
Judean hills wine tours
Depart Tel Aviv /Jerusalem at 8:30 Drive towards the Judean Hills, One of the oldest wine regions in the world!  We will discuss the wine history of the area, the rise of boutique wineries in Israel, Ownership of Agriculture land in Israel, wine "politics" in Israel , current trends in wine making and much more.
We Begin the tour at a beautifully preserved 1,600 year old Archeological   Wine Press. Continue to Tzuba Boutique Winery, where we will meet Wine Maker Paul Dubb, tour the winery and hear about the wine making process. followed by tasting 4-5 of Tzuba's award winning wines.
Next we will continue to the Agur Boutique winery to meet up with winemaker Shuki Yashuv. Shuki is a master Blender of wines and a very colorful person, guaranteeing an unforgettable tasting experience.
Our next stop will be Tzora Winery, Tzora placed 3 wines above 90 Points with Robert Parker in 2013 alone and their Wine Maker is Eran Pick, the only Israeli to hold the title "Master of Wine". October 2016 Issue of Wine Spectator Magazine ranked 5 wines from Tzora above 90 points.  We will taste 4 excellent wines that often include a superb dessert wine.
We then Travel through one of the most beautiful roads in Israel ending up at an off the beaten path "Tuscany In Judean Hills" vista point.
* Ask us about swapping one winery visit for tastings at a great Microbrewery.
* Ask us about hiking up Tel Azekah – The battle site of David and Goliath.
* Interested in a specific winey? email us! We work with over 25 wineries and serveral Microbreweries in a Judean Hills! We can offer multiple tours in this region in which the itinerary, vista points are different!
* We offer relocation wine tours in which our guests begin the tour in Tel Aviv and conclude in Jerusalem , or the other way around. Luggage included! Ask us about our Airport transfer services.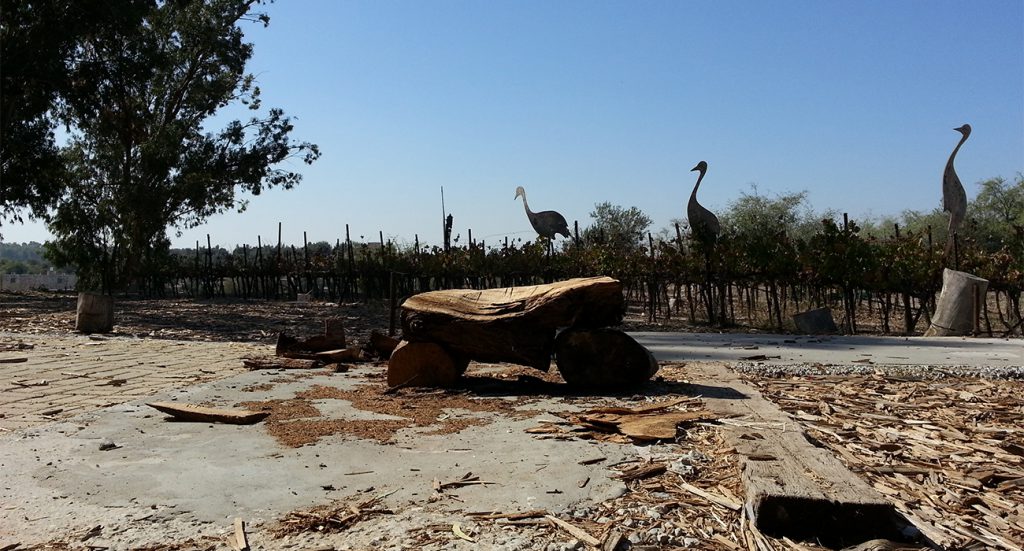 Judean Hills Premium Wineries Tour
Israel is making its way in the global wine scene. On the Judean Hills Premium Wineries Tour, we would visit three of the wineries that have been in the spotlight in the last few years. The first 4 listed below are a part of the Judean Hills Quartet
Tzora – 5 wines over 90 points with Kim Marcus and Wine Spectator [October 2016], Eran Pick, the only Israeli Master of Wine,is the winemaker. Wines above 90 with Robert Parker in 2007 and 2013
Sphera – Superb white wines made by Winemaker Doron Rav Hon formerly of Ella Valley Winery for 10 years. This winery produces complex, minerally white wines and heir varietal Riesling has been very well reviewed by wine blogger Stuart Pigott
Flam – Highest ranking wine in Israel by Wine Critic Jancis Robinson [September 2017] Castel – The Ben Zaken family are the owners of one of Israel's first boutiques. This winery has ranked highly with Robert Parker and Wine Spectator in recent years.
Clos De Gat – Estate Winery specializing in open vat, natural Yeast fermentation. This winery is producing high end varietals and blends. This is a Vegan friendly winery. Cellar is the site of Yitzhak Rabin bunker in 1948
*Availability Pending approval from the wineries
Carmel and Jezreel Valley Wine Tours
Depart Tel Aviv at 08:30
Drive north towards the Carmel Region. On route, we will discuss the wine history of the land of Israel and how it evolved through the years. What makes a wine Kosher, wine politics in Israel and so much more.
Drive to Vortman Boutique Winery
Vortman Winery is an urban winery & vineyard overlooking the beautiful bay of Haifa from the height of the Carmel. Hai Vortman's wines have been written up by the Late & Great Daniel Rogov in 2010 and ever since then the wine has won medals at quite a few competitions in Israel. Vortman Winery currently produces 20,000 bottles a year of varietals and blends. The winery has a beautiful tasting room overlooking the Mediterranean.
Drive to the beautiful town Zichron Ya'akov – a quaint Carmel Mountain town and the home of Carmel Winery.
Visit Somek Winery, a small estate winery owned by a fifth generation vintner. At Somek, all wines are handmade using old world techniques to produce their critically acclaimed wines. Meet the winemaker and taste 4-5 wines.
Stroll the beautiful Zichron Ya'akov promenade and enjoy lunch at one of the terrific restaurants there.
Visit "Ramat Hanadiv", the Rothschild Estate Botanical Gardens
Visit Vitkin Winery
Family owned winery near a 100,000 bottle production. The wine maker Assaf Paz is striving to produce crisp white wines as well as elegant reds. At this winery one would not find standard Cabernet or Merlot. This winery works with Grenache Blanc, Grenache Noir and Carignan. The winery has become Kosher in 2015 and is producing as much white wines as they are reds which for Israel is extremely uncommon.
In recent years we are combining Carmel Region boutiques with fantastic producers that are in the Jezreel Valley. Ask us about visiting Tulip and Sadot wineries. One is located in Village of Hope and employs adults with special needs. The other is a family estate winery with an incredible view. Both worth a visit!
Expected arrival time in Tel-Aviv – 17:00
*We offer relocation wine tours in which our guests begin the tour in Tel Aviv and end in Northern Israel, luggage included! Ask us about our Airport transfer services.
Golan heights wine tours
Depart  Tel Aviv at 7:30 AM
At over 1100 meters above sea level and superb volcanic soil, The Golan Heights is considered one of the finest wine growing areas in Israel.
We like to begin our Golan Itineraries with several off the beaten path vista points in Southern Golan. One is the only spot over looking the entire  Kinneret – Sea Of Galilee, another is a secret and a surprise.
The first winery is Chateau Golan. A winery 20 years of age located in the Southern Golan village of Eliad. Winemaker Uri Hetz has studied wine making in Oregon, USA and this winery specializes in Cab as well as as other varieties. A beautiful winery and a great way to start tasting in this region.
The 2nd winery for the day is Pelter – one of Israel's best and certainly the largest non-Kosher winery in Israel at 250K production. Tal Pelter's wife is a goat cheese maker and between the two, it is a great winery to visit. Tal Also produces a sparkling wine in old world "Champagne" methodology. An antique distillery has been brought over from France recently and this winery is always changing. Matar by Pelter is a new kosher brand of Pelter so that can be tasted as well when visiting this superb winery.
Before our 3rd winery and lunch we would visit the Bental Mountain overlooking Mt. Hermon, Quneitra Crossing and both the Syria and Lebanon boarder. We will discuss the old city of Quneitra and the new one as well as the internal situation within Syria in recent years.
Assaf Winery – The Kedem family has opened what may be the only "Chateau" we have in Israel and the view from it is incredible. The family grows all the grapes themselves and father and son wine maker team of Assaf and Oren Kedem produce superb wines for over 10 years now. In this tiny village,  Adi who is Assaf's daughter has opened a beautiful dairy café. Adi is a graduate of the French Culinary institute in NYC.
Expected arrival time in Tel-Aviv – 7:00 PM
We offer relocation wine tours in which our guests begin the tour in Tel Aviv and end it in the north or the other way around. Luggage included! Ask us about our Airport Chauffer services
Southern Israel wine tours
Depart Tel Aviv at 08:30.
Drive South on Rt. 6 toward Yatir Forest, the biggest forest in Israel with over 4 million trees. In the forest we will see an ancient wine press dated about 1000 BC and the beautiful vineyards of Yatir Winery. After a short 4X4 drive, we will head south to the city of Arad.
Our first winery is the promising Midbar Winery who has surprised many wine fans in Israel. Midbar is located at a new artist quarter, a spin off of an abandoned industrial zone at the entrance to the city of Arad. The meaning of the word "Midbar" is desert, an excellent name considering the the unique location of the winery. All the grapes used by Midbar are grown near Mitzpe Ramon.
The young winery experiments with many types of grapes usually leading to small batches of different wines. The main varieties used in the winery are: Sauvignon Blanc, Semillon, Chardonnay, Viognier, Chenin Blanc, Gewurztraminer, Syrah, Cabernet Sauvignon, and Petit Syrah. The winery does plans to become Kosher, but has not got their certificate as of yet.
After the lunch break and a short drive, we will arrive at the famous Yatir Winery. Yatir belongs to Carmel Winery and is a boutique winery considered to be one of the best in Israel. It is the highest awarded Israeli winery by wine critique Robert Parker who gave the flagship wine 93 points. All of the Winery's grapes come from the Yatir Forest. The main varieties are: Cabernet Sauvignon, Petit Verdot, Syrah, Merlot, Malbec and Viognier. Eran Goldwasser, an Adelaide University graduate is the winery's winemaker from day one and the winery is kosher.
At the end of the visit we will had back north to Tel-Aviv
Expected arrival time in Tel-Aviv – 17:00
We offer relocation wine tours in which our guests begin the tour in Tel Aviv and end it in Beresheet Hotel in Mitzpa Ramon, or the other way around. Luggage included! Ask us about our Airport Chauffer services