Yatir Winery prides itself on the fact that all their grapes are coming from Yatir forest. After visiting the forest, one understands their source of pride even more. At a range of 600- 900 Meters above Sea Level this is the largest forest in Israel. No matter in which direction you head within the forest, you are bound to see incredible vineyards, most of which are comprised of wine grapes.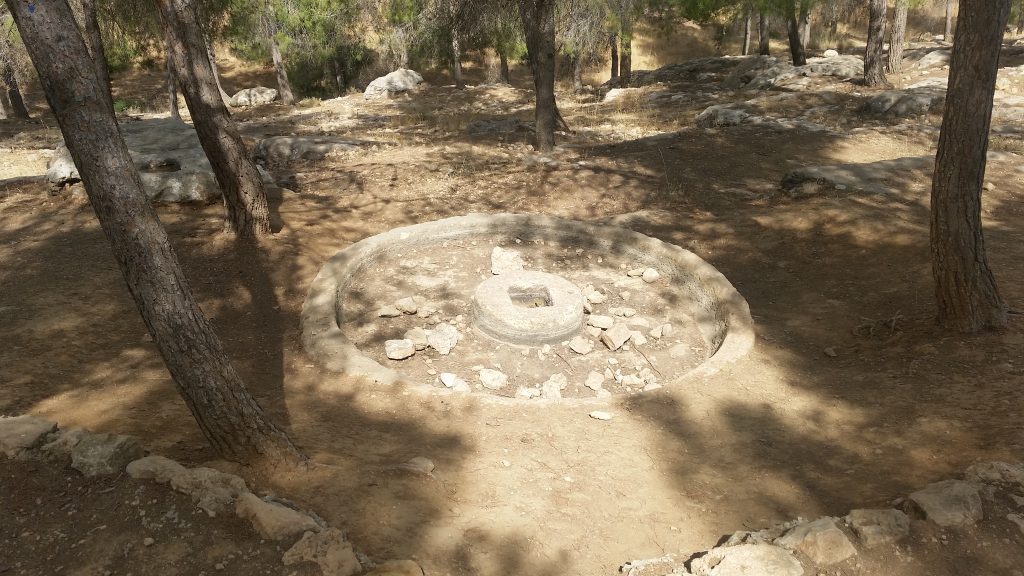 These large, impressive vineyards are in the South of Israel, only a short drive from the city of Arad. This means that temperatures in the summer do rise above 30 degrees Centigrade during the day and that Yatir Winery is irrigating their vineyards. Within the forest, we still have a testament to the ancient wine production that has been taking place in the region 2300 years ago in the form of dozens of ancient wine presses as well as nicely preserved clay Amphoraes.
Yatir used to be a joint partnership with Carmel Winery and is now owned by Carmel, The largest winery in Israel at 15 Million bottles a year. Yatir only produces 150,000. According to Etti Edri, the marketing manager of this winery one thing that this partnership allows Yatir is to take its time with aging their wines both in Oak and in the bottle. Our tasting was of 2010 and a bit of 2011 vintage. Few wineries in Israel are currently selling these vintages. The boutiques in the Judean Hills are off to 2012 and 2013 for reds, we even tried a Syrah 2014 that is already on the shelf in the past week alone.
A short walk through the winery will tell you a few things, The partnership with Carmel was necessary for this winery to grow and maintain its quality. The tanks are state of the art, matching in sizes and aligned perfectly, it seems that Winemaker Eran Goldwasser is experimenting with some Concrete fermentation tanks as well. we happen to see two that were brought in from Italy.
As for our tasting, We started off with a lovely Rose made from Grenache and Tempranillo, followed by a varietal Syrah, a beautiful Cabarnet Sauvinion and finally the 2011 Yatir Forrest blend which was extremely flavorful as well. Great stop and highly recommended!