The city of Haifa is well known for its beaches as well as the beautiful Baha'i Gardens. When our guests David and Trisha, requested a wine tour to the Carmel region that would include the city of Haifa, we immediately asked if they wish to visit the first and probably only urban winery in Israel. The couple, who were in Israel for a friend's wedding happily agreed.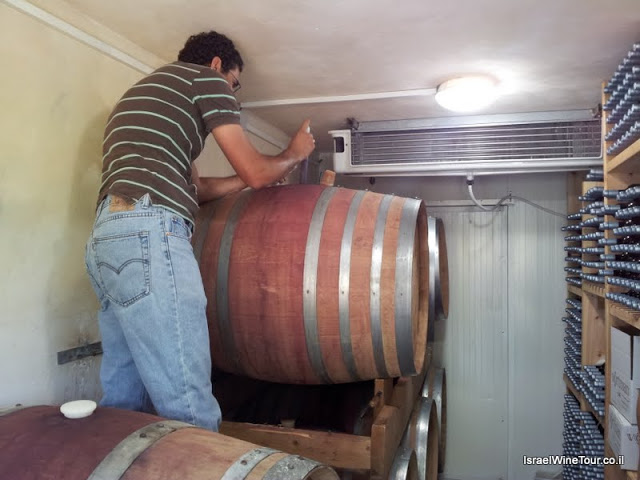 Visiting the carmel region of israel- vortman winery
Hai Vortman and his winery have been on our radar for a long time. The wine has been getting rave reviews [even from the late beloved Daniel Rogov] and we certainly knew the view from the winery would be incredible. Vortman, a native of the city of Haifa, has planted his own vineyard in the Carmel overlooking the Mediterranean has been producing critically acclaimed wine for the last 5 years. Vortman winery currently produces about five thousand bottles a year, and is looking to expand in the near future while maintaining the unique qualities of their wine.
As this was a private tour, Hai was kind enough to get us a barrel tasting of his 2011 Shambour blend that was absolutely terrific and showed great promise.
We later sat down at a beautiful grape vine – woven gazebo and tasted the wines that have already been bottled and released into the market. The wines were: 2009 Netiv Ofakim, 2010 Shambour,   and my personal favorite on this warm Saturday morning, The 2011 Shfea Valley blend [Dry White] that has 67% Sauvignon Blanc and 33% Sémillon.
We would like to take this opportunity to congratulate Vortman Winery for winning The Sommelier Gold Medal just last week for their 2010 Shambour.