Why in the world is Israel Wine Tour blogging about a new Museum in Tel Aviv? Both Alon and I are licensed tour guides, We lead a variety of tours throughout Israel including geopolitical and culinary tours. Alon even leads Jewish Youth groups to Poland and participates in March of the living. In other words, we have a range of interests and specialties and we always strive to expand our knowledge.
When a state of the art Jewish identity museum is inaugurated, we certainly want to learn about it. Anu is the rebranding of Beit Hatfutsot, a Jewish heritage museum which was first opened in the late 1970's on the campus of Tel Aviv University. Anu was in planning stages for 10 years and has a budget of 100 Million Dollars.
The museum is divided into 3 floors. The top floor is referred to as a "mosaic" it emphasizes three core values of Pluralism, Positivity and highlighting Success Stories with regards to Jewish culture and identity over the past 120 years. The "mosaic" has no clear route one should take, when one exits the elevator, the first thing you see is life size high definition screens, showing the testimonials of Jewish people from a multitude of backgrounds and geographical origins explaining in short 4 minute videos, what being Jewish means to them.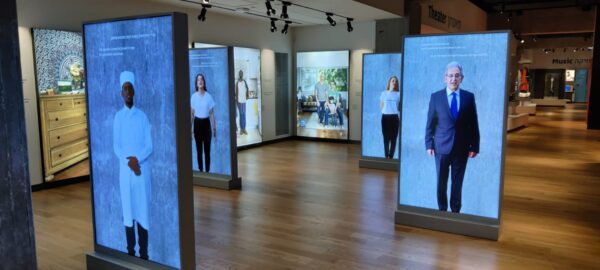 The different sections of the "mosaic" incorporate interactive experiences as well as memorabilia in an effort to describe Jewish achievements of the last 120 years in the fields of art, literature, music, cinema, dance, cuisine and much more.
An original royal mantle costume that was used in a 1935 production of "King Lear" at the National Jewish Theater of Moscow. Where the Artistic Director, Solomon Mikhoels insisted the play would be performed in Yiddish. Mikhoels was later executed by Stalin. Steps away from the display, an interactive Disk Jockey screen on which one could create an original track that meshes together snippets from famous Jewish musicians such as Bob Dylan, Amy Winehouse and Balkan Beat Box together.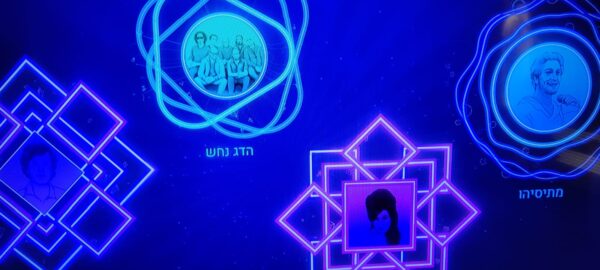 On the same floor, a cube-like exhibit of extraordinary groundbreaking Jewish Women. On one hand telling the stories of the first Jewish Women to graduate high school or be the first in their families who go out and work. On the other hand, the stories of Nobel Prize winners and Supreme Court Justices [the late Ruth Bader Ginsburg donated a Dissent Collar she wore over robe to ANU]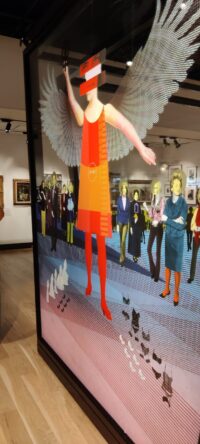 The 2nd floor of the museum is called "The Voyage". It starts with a 7 minute animated movie that illustrates the geographical movements of the Jewish people since the days of Abraham. Unlike the Mosaic, this floor has a clear path and the display is periodical. Alexandria and Babel are a joint display as they have quite a few elements in common. A different exhibit explores Ashkenaz alongside Spheradi backgrounds.
In the portion of the display which covers Modern History, Jewish text is examined as it portrays
the origin of Jewish thought, belief and art.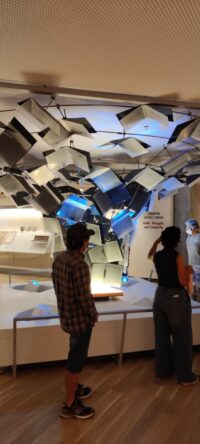 An additional exhibit about Humor in Judaism is one that was already on display at Beit Hatfutsot and it was a pleasant surprise. The display is rather wide, covering Yiddish plays, Woody Allen movies, the TV show "South Park" and wax figures of prominent characters from the Israeli TV staple "Eretz Nehederet". All the video displays are with subtitles and convenient sitting so one could relax and watch for a few minutes.. A mockup of a stand up comedy club in Tel Aviv with Holograms of multiple Comedians including Tom Yaar telling jokes as I was sitting on a bar stool, was the icing on the cake.